ROCKLANDS ENTERTAINMENT REFLECTS ON THE PASSING OF THE LEGENDARY MAC WISEMAN
March 1, 2019
All of us at Rocklands Entertainment were saddended on Sunday February 24, 2019 to learn of the passing of a dear friend, the legendary Mac Wiseman.
Mac Wiseman, known around the world as the man who had "The Voice with a Heart" was a member of both the Country Music Hall of Fame and the Bluegrass Hall of Fame. His hit recordings included "Jimmy Brown The Newsboy", "The Ballad of Davy Crockett", "Tis Sweet To Be Remembered", "Love Letters In The Sand", "I Wonder How The Old Folks Are At Home", "Johnny's Cash & Charley's Pride" and "Shackles and Chains".
Company President Brian Edwards recalls the many concert and Fair dates that the company worked with Mac over the years. "It didn't matter whether Mac worked in front of a country band, a bluegrass band, or just him and his guitar, he could absolutely captivate an audience" said Edwards. "When Mac Wiseman started to sing you knew exactly who it was with the first word – a true stylist".
Mac was a frequent visitor to Canada over the years. In 1977 he recorded an album of Gordon Lightfoot songs, and earlier had recorded the album "Sings At The Toronto Horseshoe Club", which featured many songs written by Canadian songwriters. In 2010 he released a five CD box set featuring 133 songs entitled "The Mac Wiseman Story", and in 2015 collaborated with Nashville writer Walt Trott on his autobiography "All My Memories Fit To Print".
Several years ago Brian Edwards arranged an afternoon visit with Mac at his home in Nashville. What he did not tell Mac in advance is that he was bringing a couple of his old friends along.
"Just imagine the look on Mac's face when we arrived with Mel Tillis and Charley Pride in tow" says Edwards with a laugh. "It was an incredible afternoon sitting there listing to these three old friends tell story after story of their lives in the music business." Mac Wiseman will be remembered as a true gentleman, and we are proud to be able to call him a friend.
As one reporter recently wrote – "Heaven's Opry just got a whole lot better".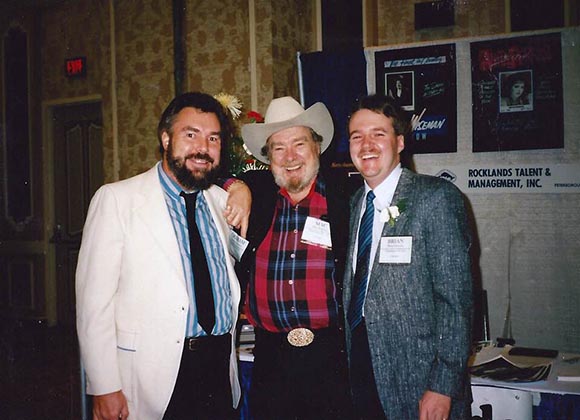 GRAHAM TOWNSEND, MAC WISEMAN & BRIAN EDWARDS MANY YEARS AGO AT THE INTERNATIONAL ASSOCIATION OF FAIRS AND EXHIBITIONS CONVENTION IN LAS VEGAS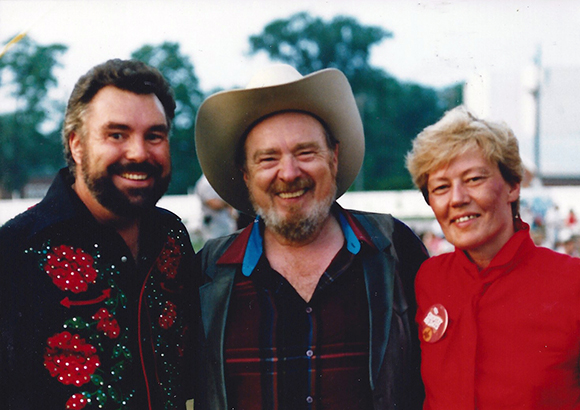 MAC WISEMAN ALONG WITH CANADIAN FIDDLERS GRAHAM & ELEANOR TOWNSEND POSE BACKSTAGE IN CANADA MANY YEARS AGO.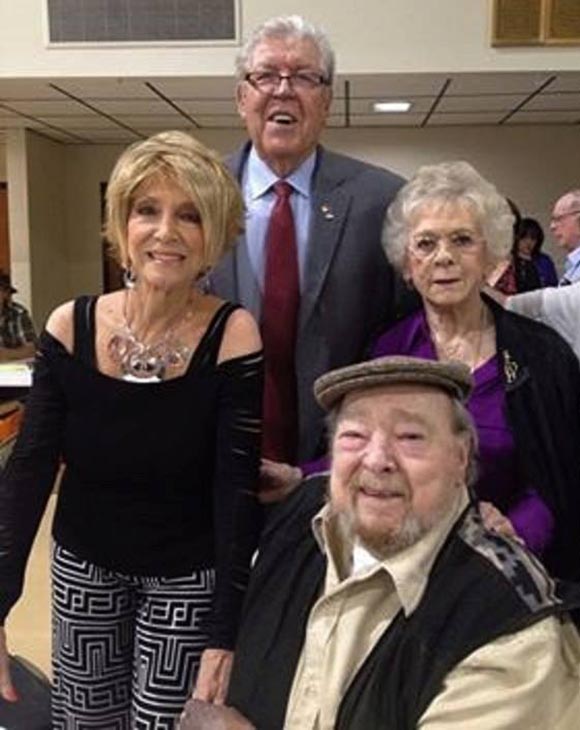 GRAND OLE OPRY STARS JEANNIE SEELEY, JEAN SHEPARD, JEANNIE'S HUSBAND GENE WARD AND MAC WISEMAN AT A "REUNION OF PROFESSIONAL ENTERTAINERS" EVENT IN NASHVILLE.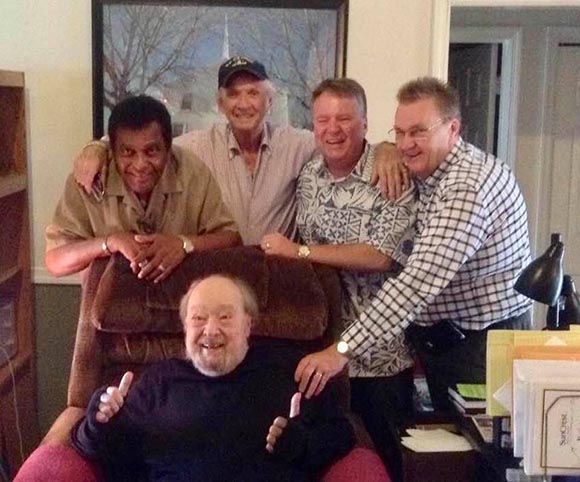 CHARLEY PRIDE, MEL TILLIS, BRIAN EDWARDS, AND CHARLEY'S MANAGER JOHN DAINES VISIT WITH MAC WISEMAN AT HIS HOME IN NASHVILLE. WHAT AN INCREDIBLE AFTERNOON!